1-year support

FREE Upgrade
How It Works
Vnecoms RMA extension allows the customer to open an RMA request right on the website instead of having to call. By this way, the customer can provide all the required information about the wrong/broken product such as the product's order number, name, sku, warranty period...and also some evidences showing the damage (a message or an attachment image). The customer can choose for their RMA request a reason, which is prepared by admin or freely add a new one. Each RMA request is given a RMA numbers, which are important to both the merchant and customer because it tells the merchant that a return is being made and offers protection against fraudulent returns. Besides, the RMA request is marked by the statuses system, which can be customized to suit your business model
Intuitive frontend
Requesting an RMA can be made by two ways in frontend: by click on the footer link (for guest customer) or from accout page (for registered customer). All he need to do is filling an intuitive submission form with:
A field for related order number
A table for selecting one or several product from the order
A field for choosing reason and package condition
A text field for message and an optional attachment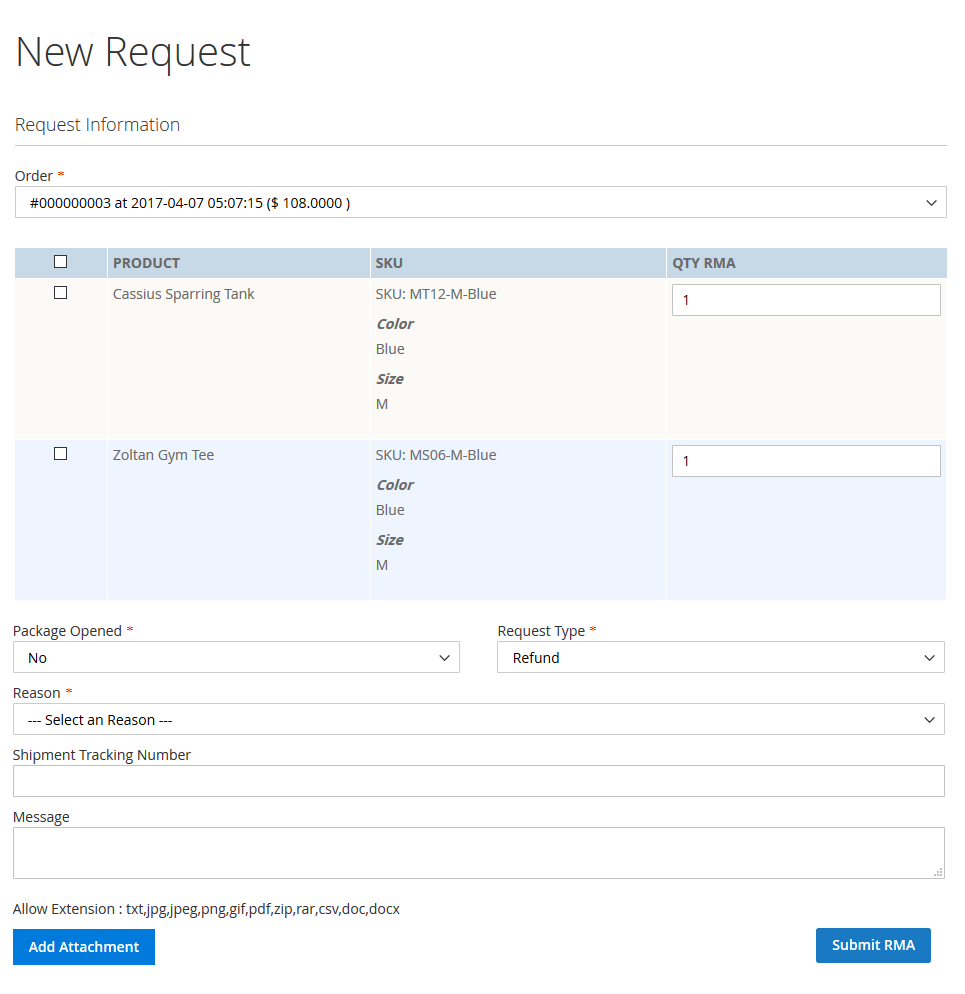 Extensive backend options
From backend, Admin can control aspects of the process:
Define the return period
Set the Return policy
Enter the RMA Department email & address
Manage RMA status as well as Reasons.
Define which file types are allowed to attach with RMA
etc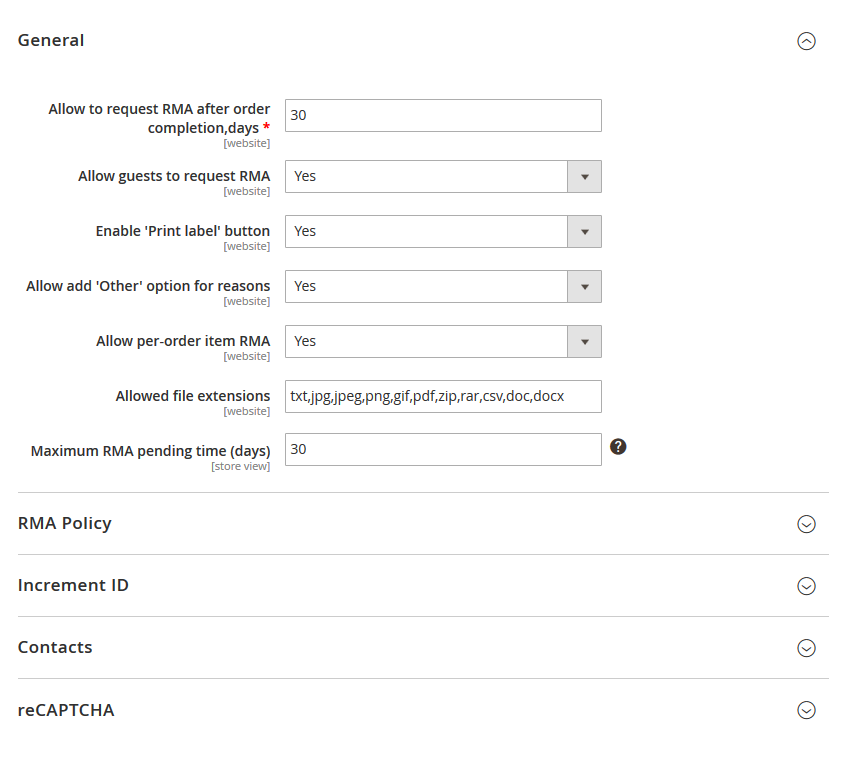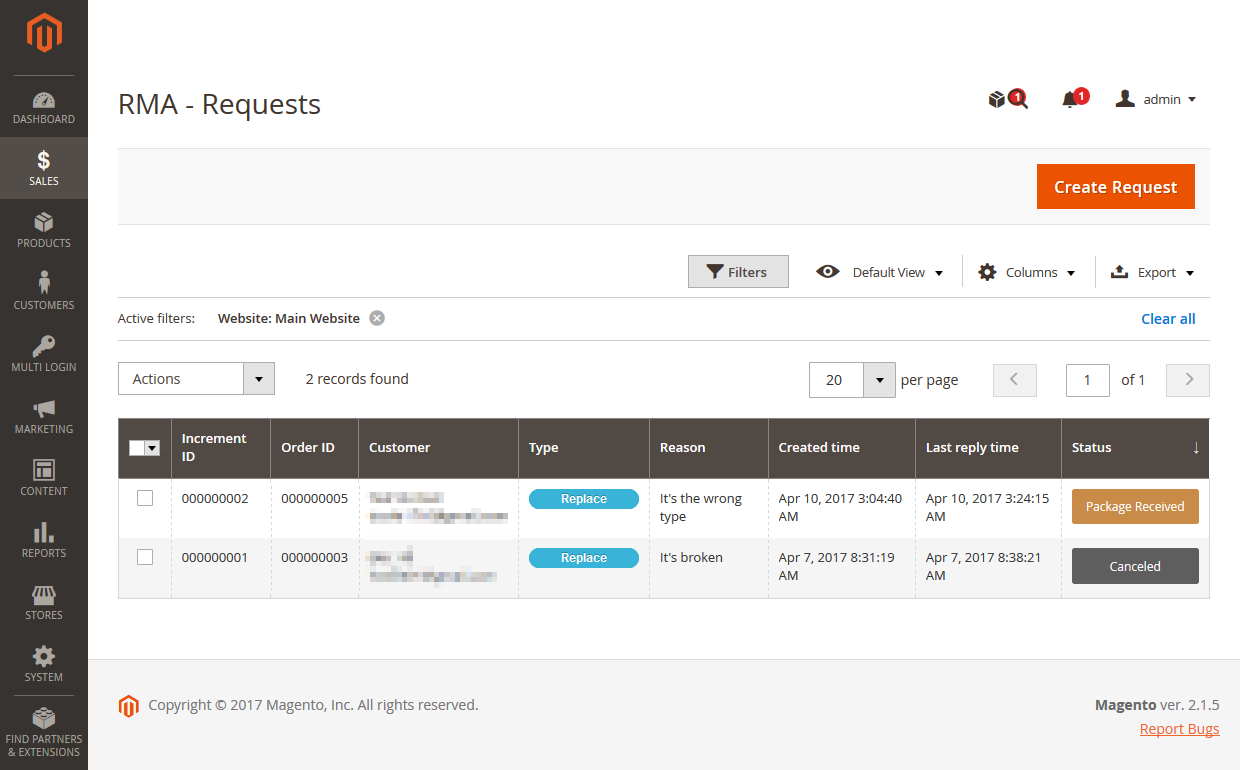 Effectively manage RMA requests
In both customer account or admin panel, you constantly keep an eye on your requests history and timely process all incoming queries. The RMA request is shown in the grid so you'll be able to quickly find and process any request you need. Especially in Admin panel, all the active RMA request will be grouped and shown separately.
Comfortable communication
Through the RMA request, customers and admin can send messages to each other and also can be able to attach files to message. The message history is saved just like in a mail box. This help the RMA request more informative and can be resolved quickier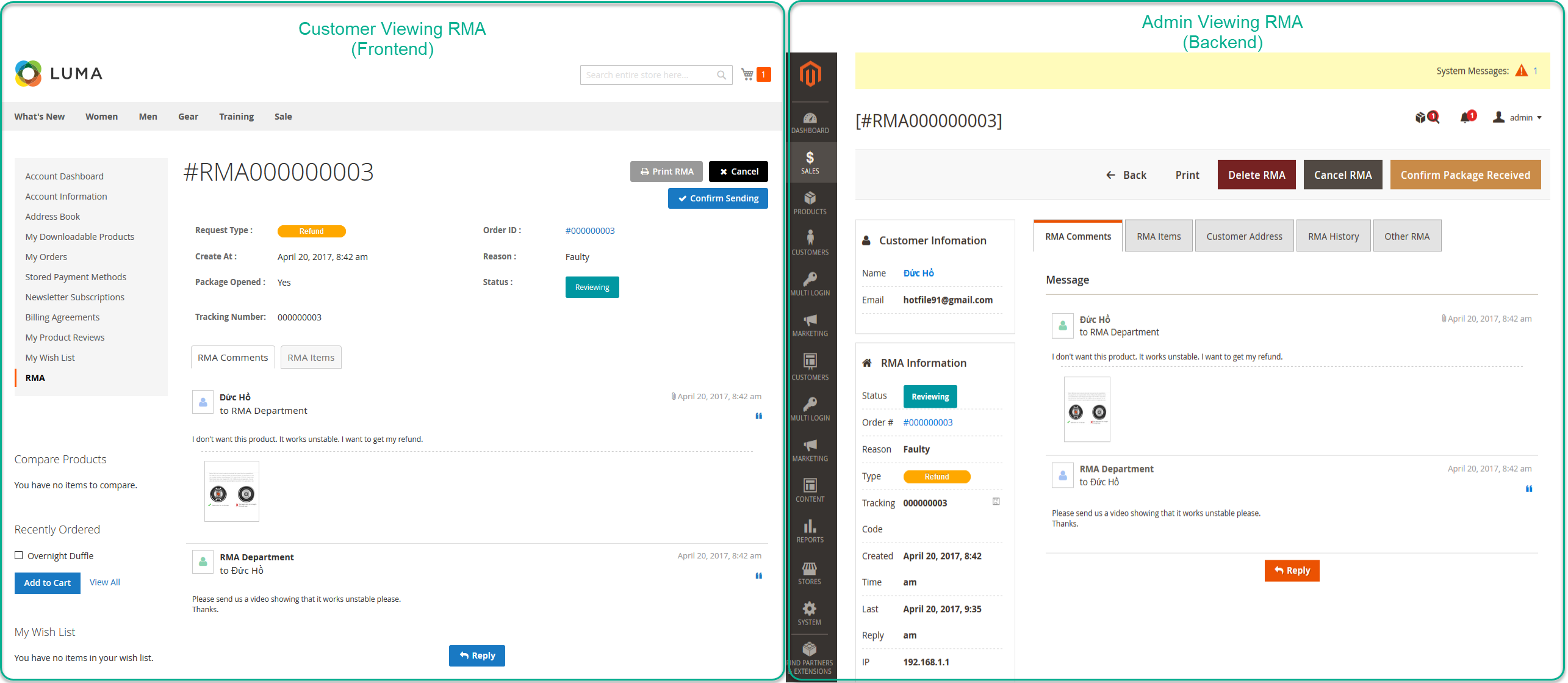 Changes Log
Version 2.3.0.4 (Magento 2.3.x)
2019‑04‑03
Fix problem, after customer change his address, he can't see any old RMA request
Fix mail issue
Version 2.3.0.3 (Magento 2.3.x)
2019‑04‑02
Fix multiple currency problem
Version 2.3.0.2 (Magento 2.3.x)
2019‑03‑29
Correct the event name.
Display rma requests in sales order grid..
Version 2.3.0 (Magento 2.3.x)
2019‑03‑18
Release version 2.3.0 compatible with magento 2.3.*x.
Fix Wysiwyg editor in admin panel..
Version 2.1.3
2019‑03‑18
Fix wysiwyg editor.
Fix serialize problem.
Version 2.1.2
2019‑02‑22
Version 2.1.1
2019‑02‑20
Change require version of magento/module-sales.
Version 2.0.0
2018‑09‑11