Workflow of Magento Marketplace extension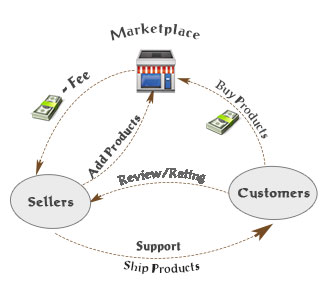 The Magento Marketplace is a multiple vendor extension. A vendor can easily create and manage their own account on the mobile friendly website. Vendors can easily add and manage their own products within the Marketplace.
Your Marketplace website will organically attract customers who will search and buy products. Sales will instantly be transferred to the Marketplace system and will add the money to the vendors account as credit. Vendors can then withdraw the money from their credit account and can access the money through banks or paypal at any time.
Vendors can manage orders, create shipments and ship products to customers all from a very easy to use management interface.
Customer can leave reviews/ratings for Vendors every time an order is placed, allowing for a very safe shopping experience for all.
Flexible Commission Calculation
Marketplace owner can create multiple commission rules to charge vendors. In example marketplace owner charge 5% per order for marketplace commission and fixed $2 for each order for transaction fee (e.g. paypal fee)

Owner can use flexible conditions to filter products that will be applied by the commission rule.

The commission can be fixed price or percent of product price.
Extension Modes
There are three modes of the marketplace extension:
1. General: In this mode all products in shopping cart from vendors will be processed together to one order. Vendors can only see specific information about the order. Vendors cannot see products of other vendors from their order.

2. Advanced:In this mode products on shopping cart will be separated by vendors and they will be processed by each vendor. Vendors have full access to their orders, invoices, shipments, credit memo.

3. Advanced X:In this mode products on shopping cart will NOT be separated by vendors. One shopping cart is used for all vendor products, one time checkout for all vendor products and orders are still split by each vendor. Vendor can have full access to his orders, invoices, shipments and credit memo.THIS MODE WILL WORK WITH ONLY SOME PAYMENT METHODS (tested with Check Money Order, Cash On Delivery, Purchase Order, Saved CC, paypal pro - credit card only, paypal standard, paytm, payumoney).
Supported Payment Methods
The Magento marketplace extension supports all the same payment methods as the standard Magento system. If you have any problems with your payment method please contact us for assistance.
Supported Product Types
These following product types are supported by the Magento marketplace extension:
Simple Product
Configurable Product
Grouped Product
Virtual Product
Downloadable Product
Bundle Product
Vendor Groups
The Magento marketplace provides the ability to manage vendors by group. You can set commission for each group by percent of any order or fixed amount. So you can set up different commissions for each group e.g. Free vendor will need to pay 15% for each order, Gold vendors, who pay $100/month, will not need be charged any fee per order.

Manage Vendors
The marketplace administrator can manage all vendors from Magento backend.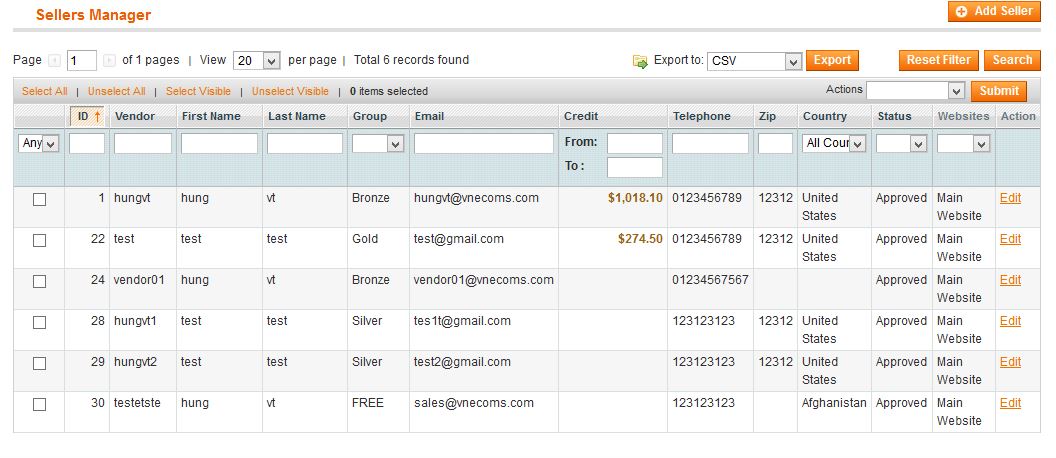 The marketplace administrator can view and edit the vendor info.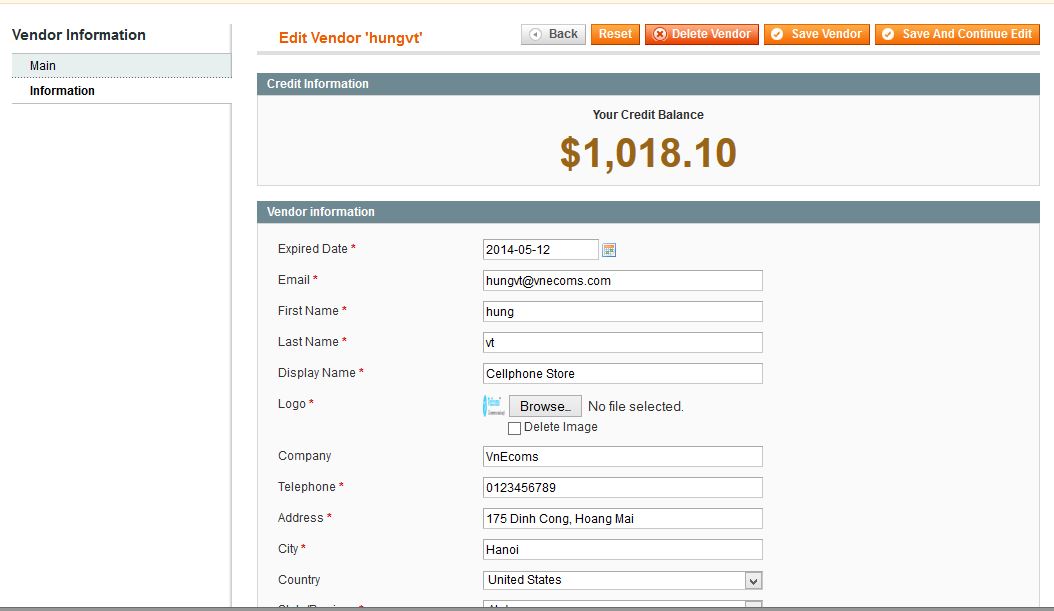 Manage Vendor Attributes
Marketplace owners manage all vendor's attributes from admin panel.

You can add new vendor's attribute to display on vendor registration page.

Manage Transactions
The marketplace owner is able to manage all credit transactions from all vendors.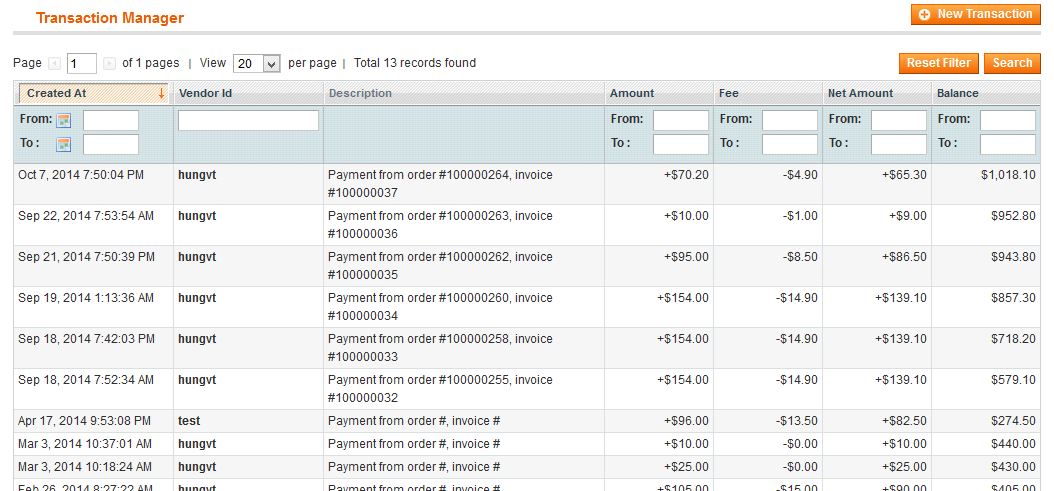 The marketplace owner can create new transactions to add or subtract vendor's credit for troubleshooting precautions.

Vendor Login
The vendor login page is different from the customer login page. Vendors can use their vendor identifier or email to login.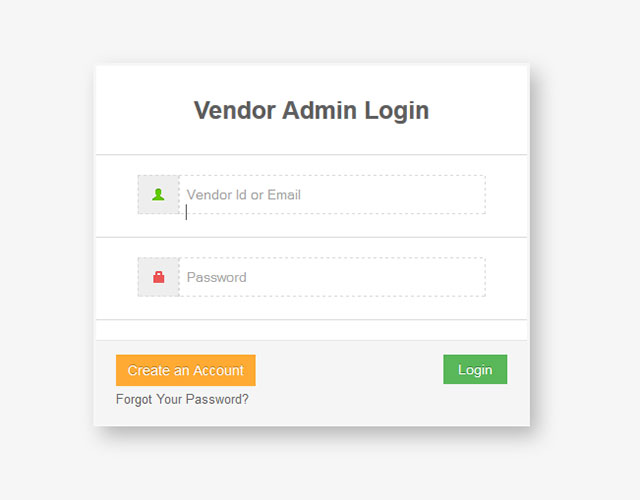 Vendor Register New Account
The marketplace extension allows vendors and sellers to register for an account to start selling products on the marketplace website. You can disable this feature from configuration as well.
As the Marketplace owner you can easily add new fields on the registration form by adding new vendor attributes from the admin panel.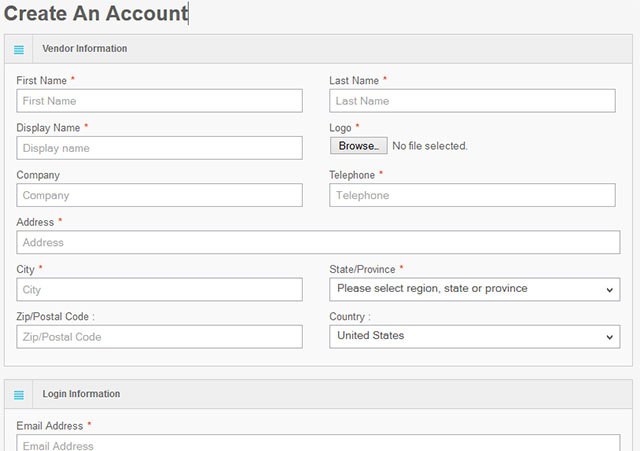 Vendor Forgot Password
If a vendor does not remember their password, they can recover it simply by clicking forgot password. You simply need to enter the vendor identifier or the email assigned to the account and then an email providing the new password will be sent out.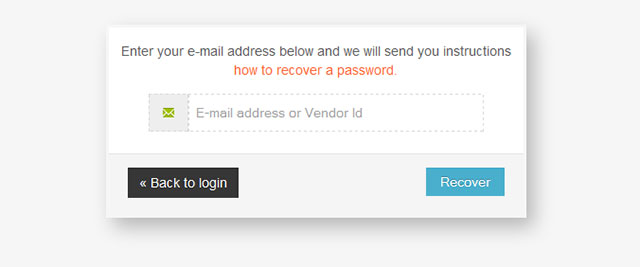 Vendor Account Approval
After a vendor registers for an account on the marketplace they will need to verify their email account and wait for an admin to approve the account for additional security. The Administrator can disable this step from configuration as well.

Admins can filter pending vendors by approving or disabling vendors.

Responsive Vendor Cpanel
The Multiple Vendor Marketplace Script allows vendor to manage their products and orders on any device from anywhere. This feature is very helpful for your vendors to manage their store.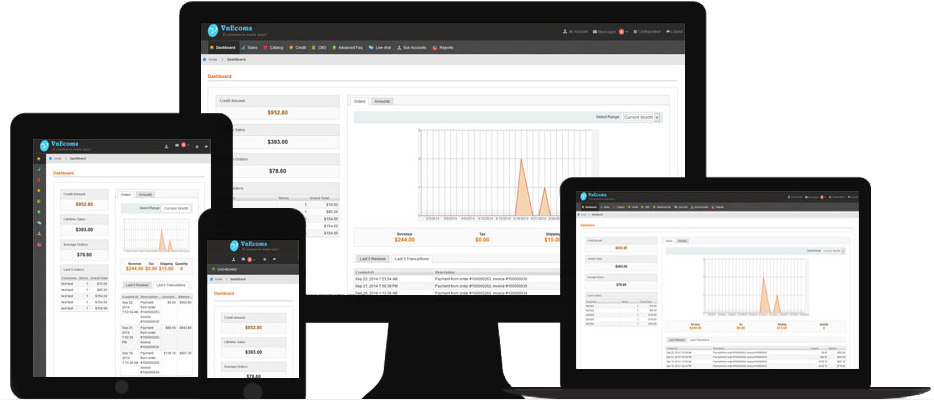 Vendor Dashboard
From the vendor dashboard, vendors will have an overview about their store. The vendor will able to see the credit amount, total sales, last 5 orders, last 5 transactions, last 5 reviews, ...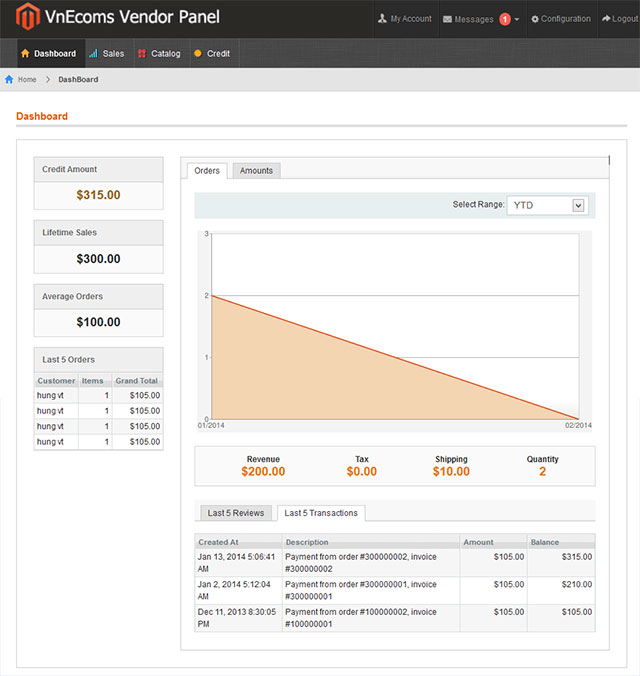 Vendor Credit Account
Each vendor will have his own credit account. After a customer pays for an order, the money will be added to vendor credit account. Vendors can see their credit amount from dashboard.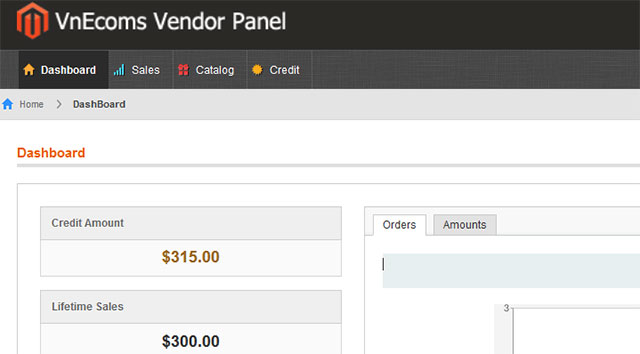 Vendor can withdraw the money from his credit account to his Bank, Paypal,...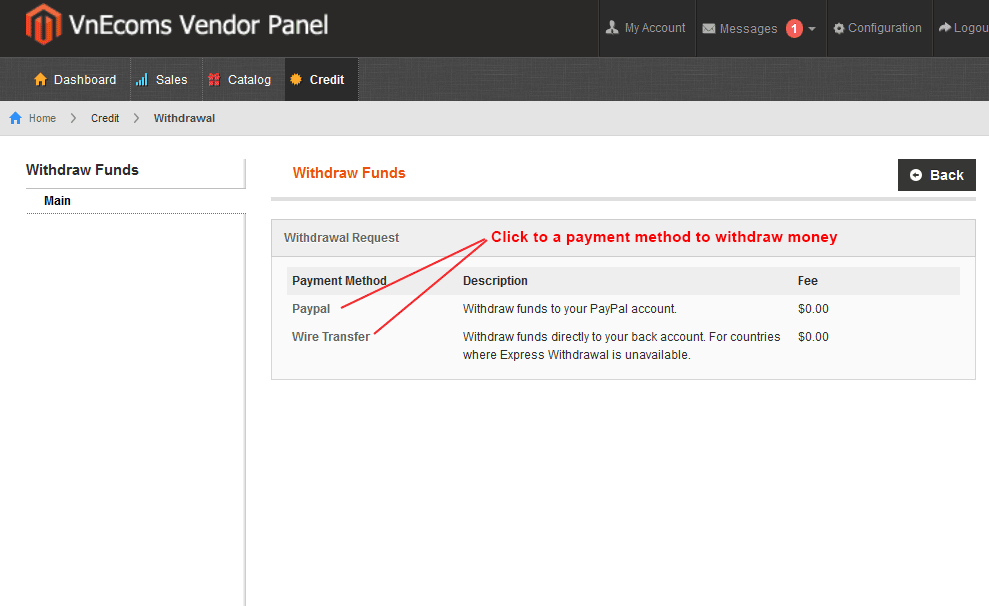 After a vendor submits a withdrawal they can see all withdrawal requests from their status report.

Vendor Product Management
A vendor is able to manage their products from their vendor control panel. Vendors have full access to their products. Vendors products may need to be reviewed and approved by the administrator.

Product Custom Options
Vendor can add custom options for their products. Vendor can set a price for each custom options to charge more fees to customer.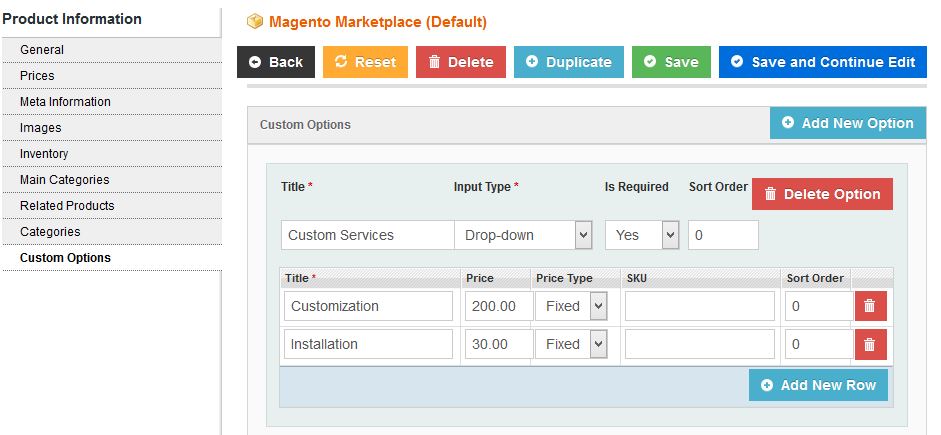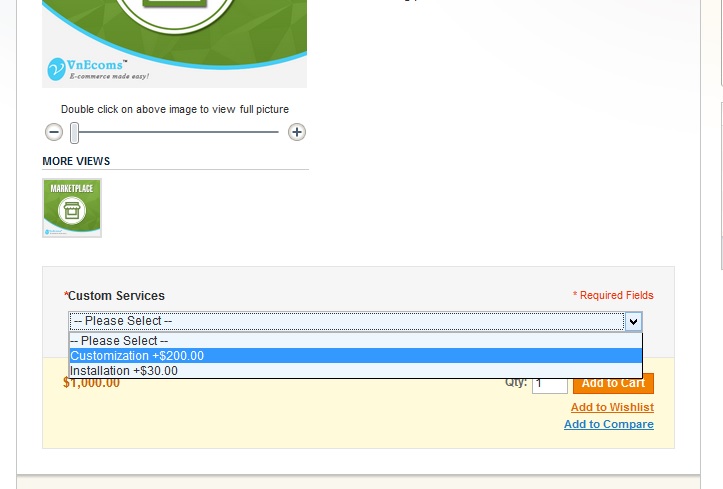 Vendor's Product Approval
All newly added products may need to be approved by Admin before it can be published live to the marketplace website.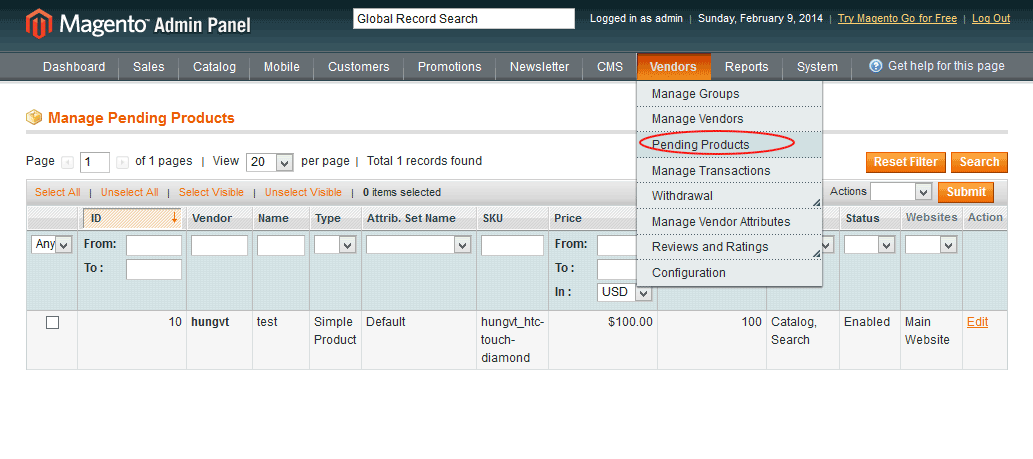 Admins can disable the product approval from configuration.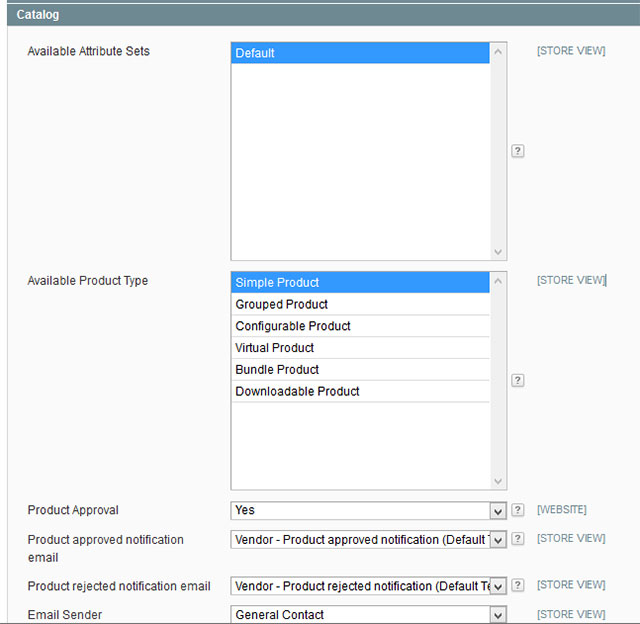 Vendor Manages Orders
Vendors are allowed to manage only their orders.They can see the list of orders. They can set the filter to get the orders they want.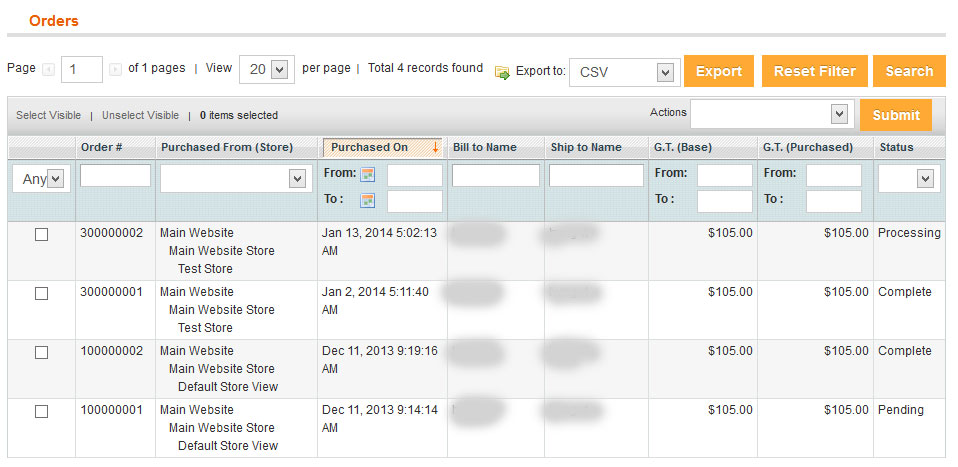 Vendors can view order information, add comments to order and create shipments for each orders.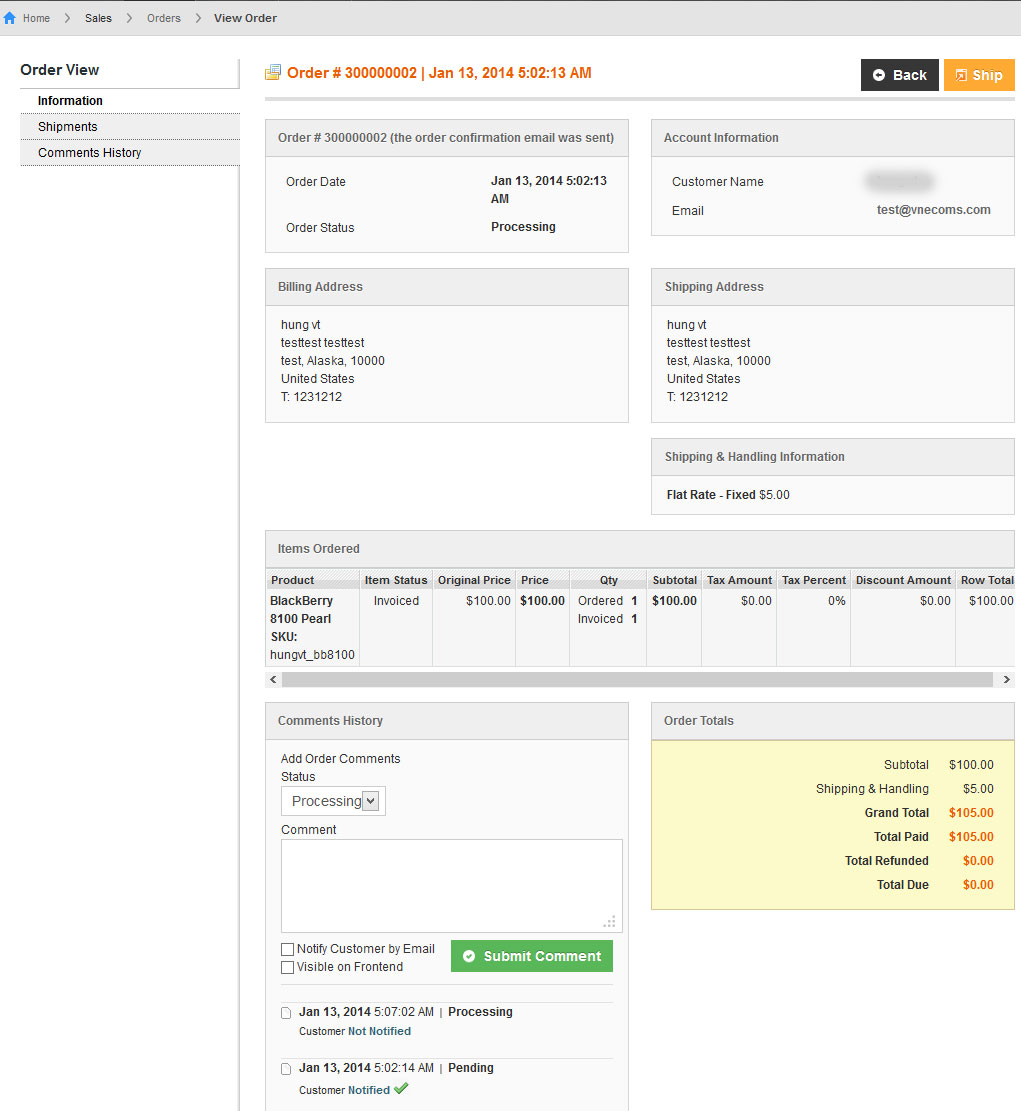 Vendor Manages Shipments
Vendors can create shipments for their orders.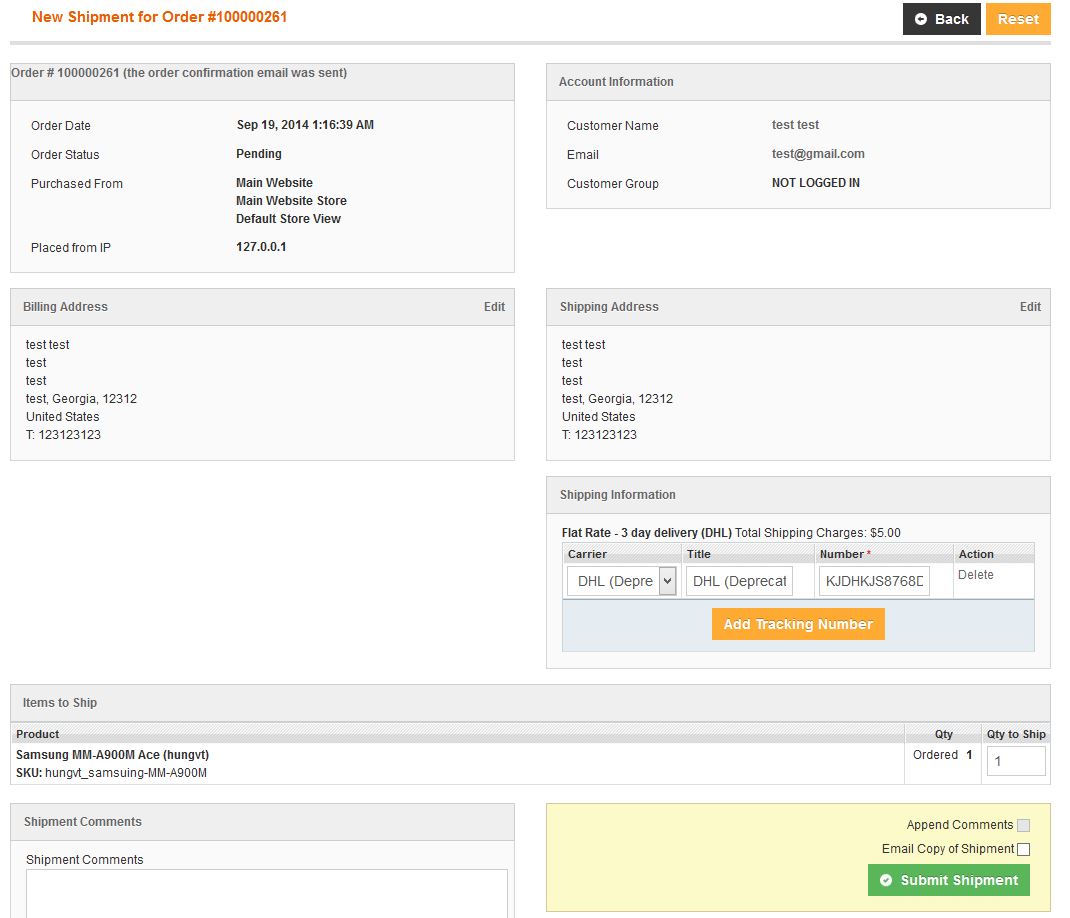 Vendors will also be able to see the list of shipments and print them together or separated.

Vendors can view shipping information, add comments and tracking numbers to shipments.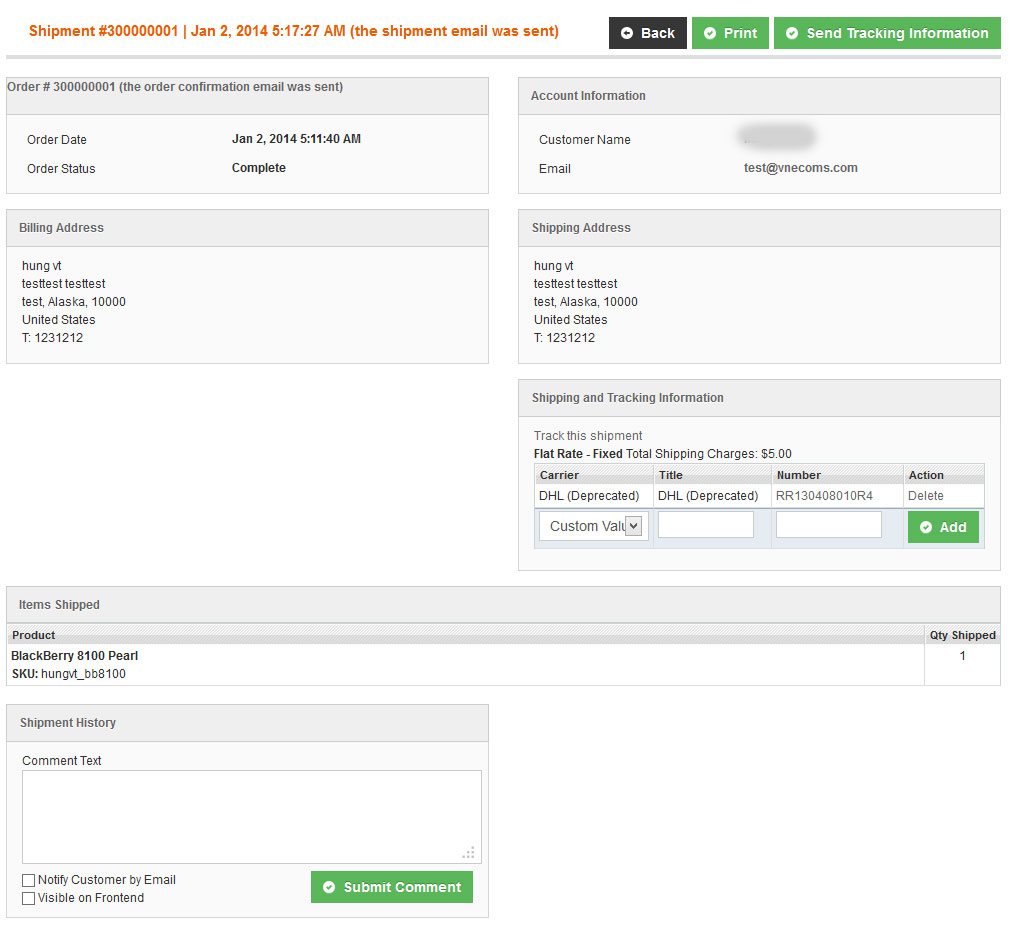 Vendor Manages Invoices
Vendors can create invoices for their pending orders.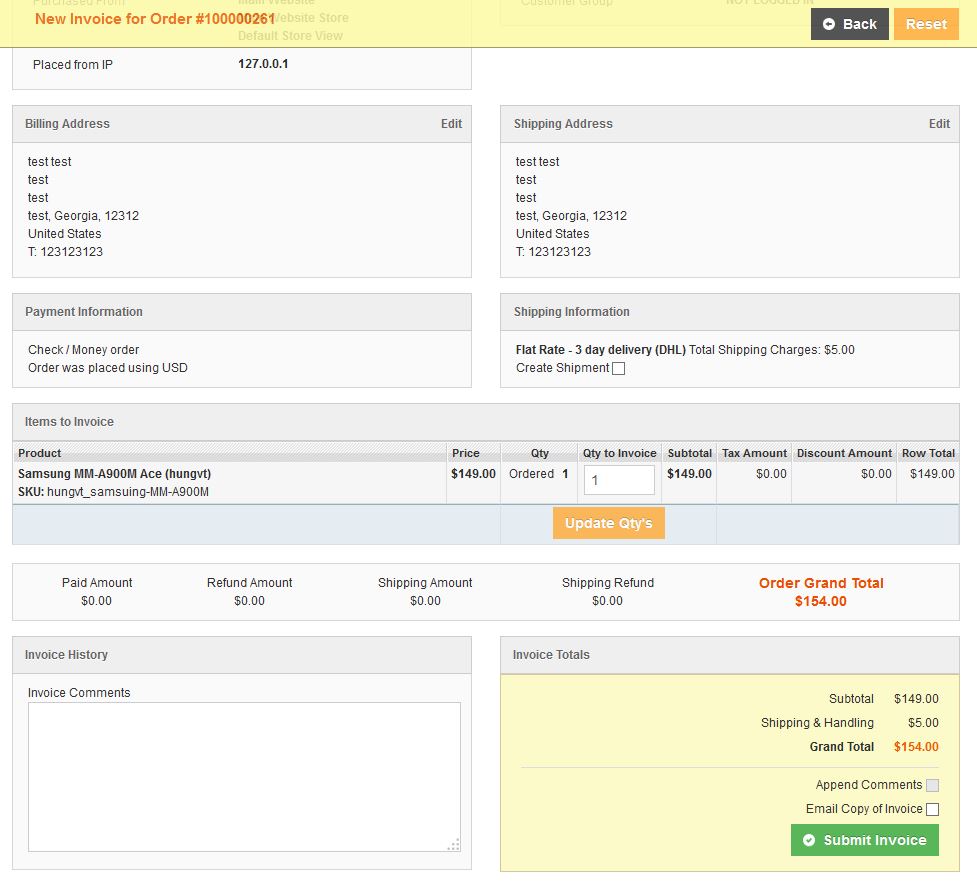 Vendors will also be able to see the list of invoices and print them together or separated.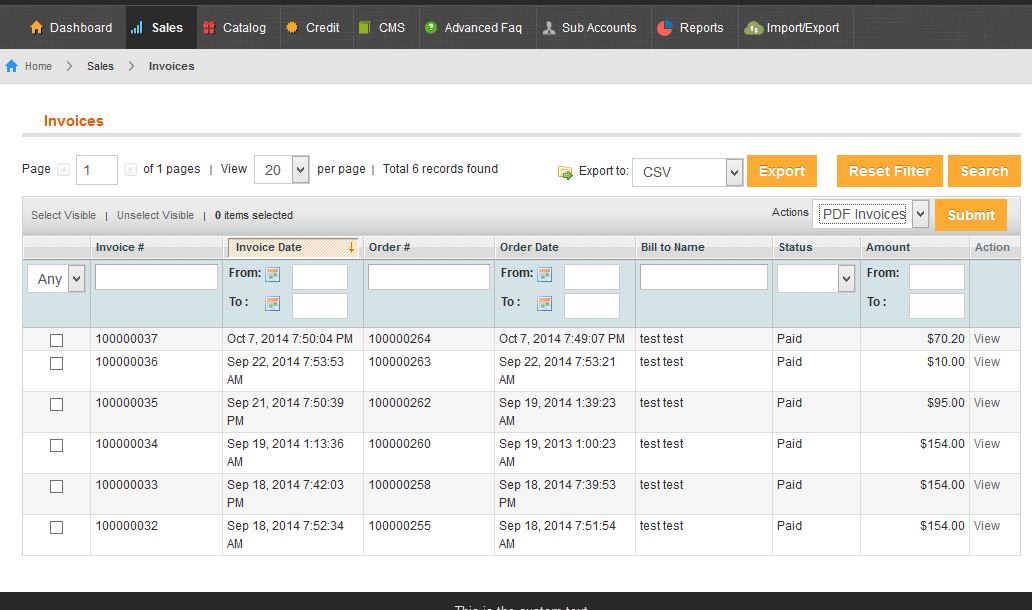 Vendors can view invoice information and add comments to invoices.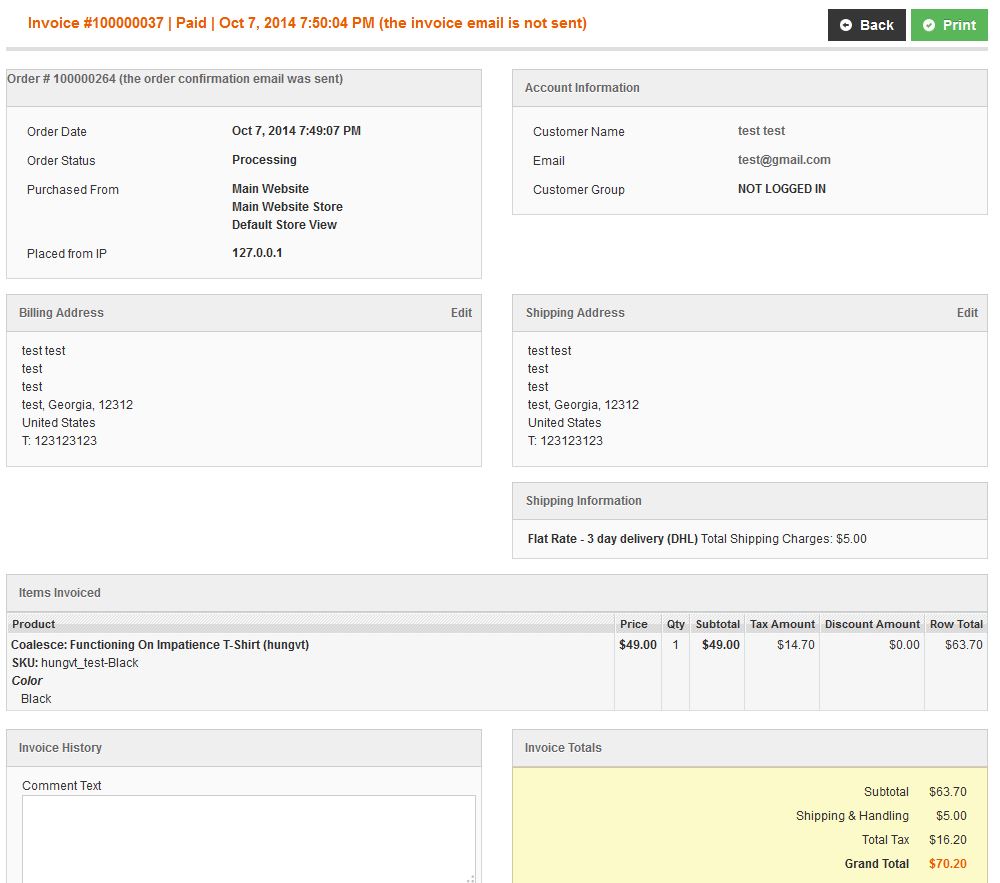 Vendor Manages Credit Memos
Vendors can create creditmemo for their orders.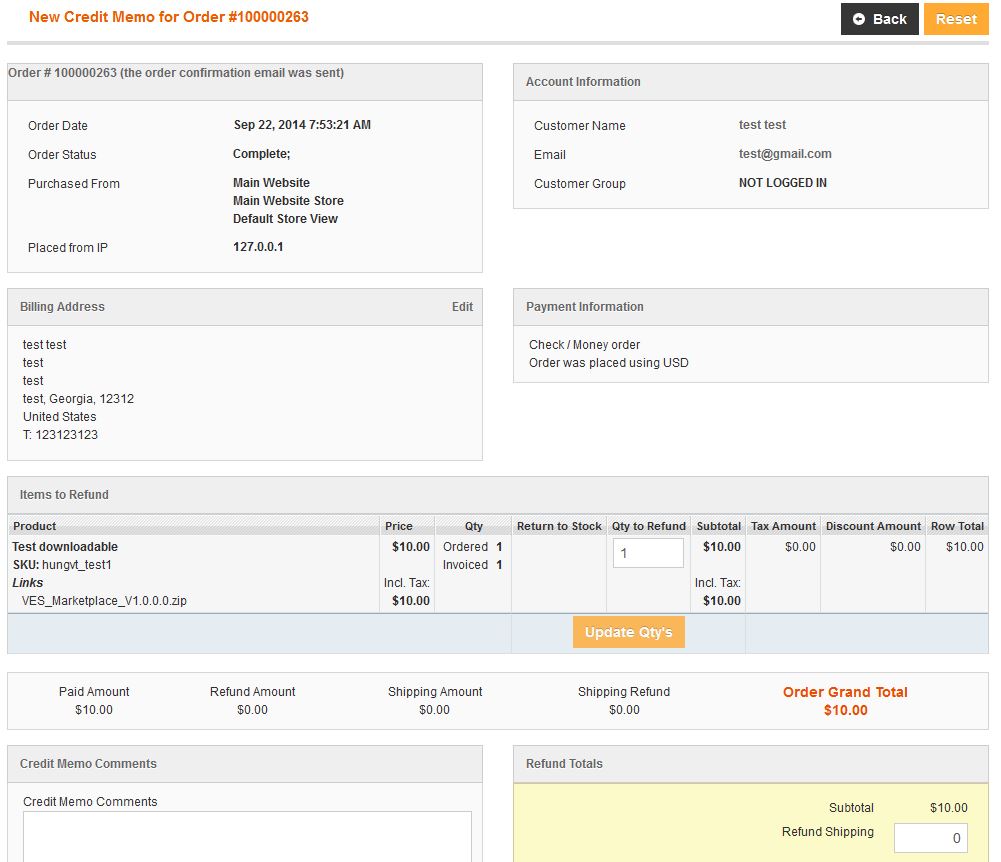 Vendors will also be able to see the list of credit memos and print them together or separated.

Vendors can view credit memo information and add comments to credit memos.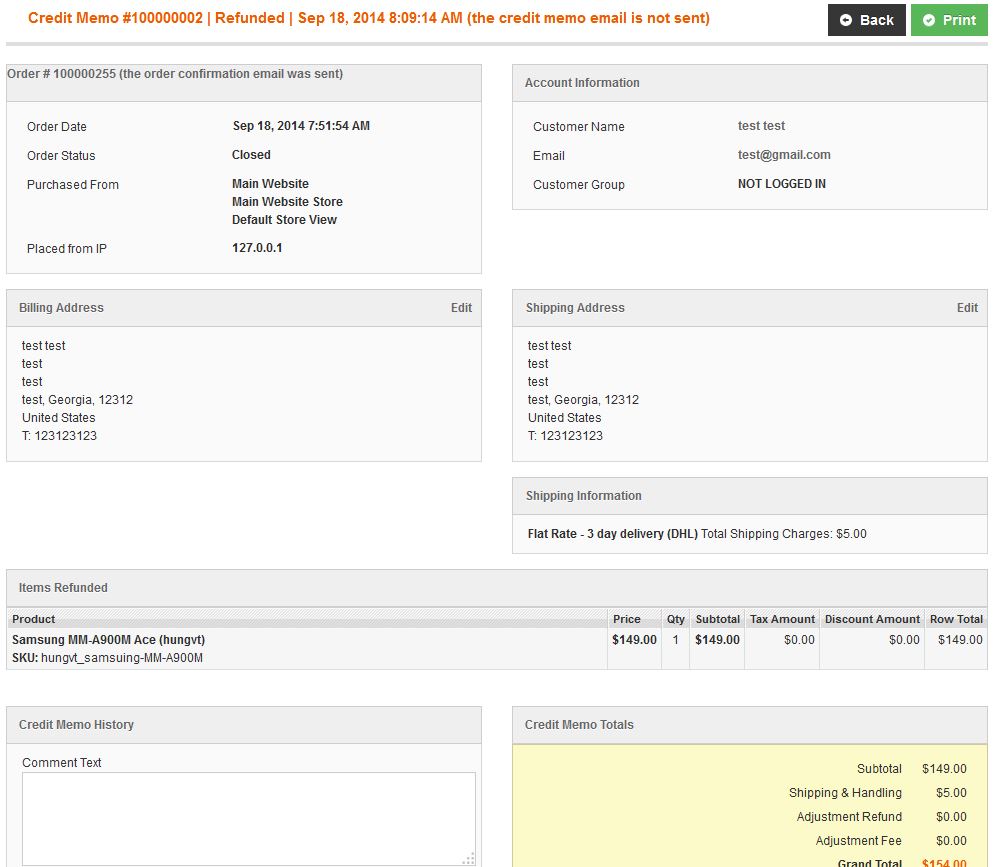 Advanced Vendor Group
With Advanced Vendor Group plug-in you can set limitations for each vendor group. For example, all vendors in the Bronze group can only add 20 products, does not allow to manage categories, does not allow to customize their pages ...
This is a very helpful Magento plug-in of multiple vendors extension for you to set different tiered memberships.
Vendor Membership
The Vendor Membership plug-in allows you to charge your vendors a monthly fee. Vendor can upgrade/renew his account by purchasing a packaged product. Each vendor membership package will be a virtual product with two attributes "Related Vendor Group" and "Period(months)". After your vendor pays for the membership package the account will be upgraded to corresponding group and the expiry date. If the vendor is already in the group, system will update the expiry date only.
This is one of top plug-ins that allows you make money from your vendors.
Paypal Adaptive Payment
The Paypal Adaptive Payment plug-in allows you to handle payments between a sender of a payment and one or more receivers of the payment.
There are two payment types
Parallel payment: If you own a shopping cart, you are not required to receive payments directly. You can facilitate payments between the sender and receivers that provide the actual goods. With parallel payments, the sender can see the transaction to each receiver.





Chained payment: The sender pays the primary receiver an amount, from which the primary receiver pays secondary receivers. The sender only knows about the primary receiver, not the secondary receivers. The secondary receivers only know about the primary receiver, not the sender.


You can change the payment type and set other configuration for paypal adaptive payment easy from the Magento configuration.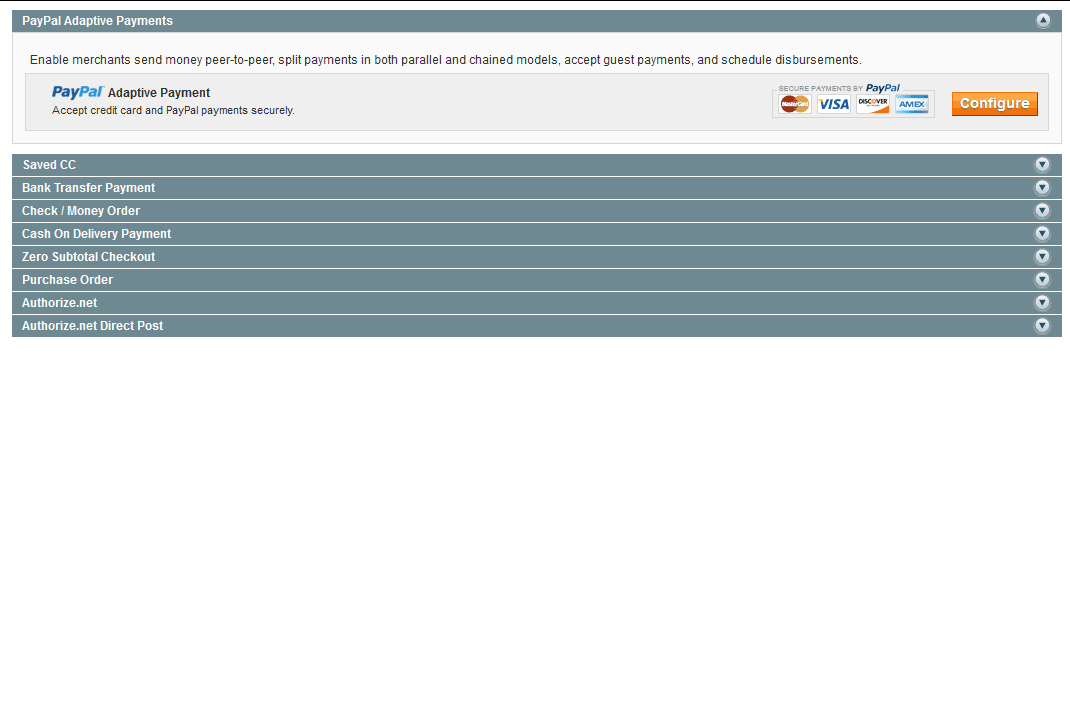 Vendor Multiple Flatrate Shipping
Vendor Multiple Flatrate Shipping allows vendor can setup multiple flatrate shipping. Vendor can add flatrate shipping very easily (see image below)

From front end checkout, customers will need to select the shipping method for each vendor products.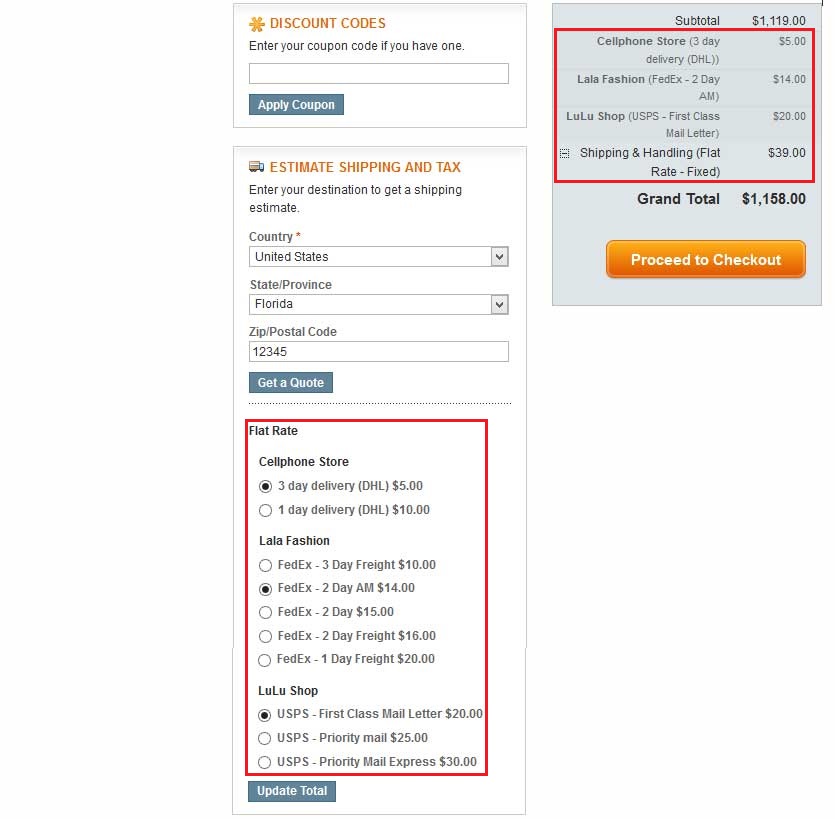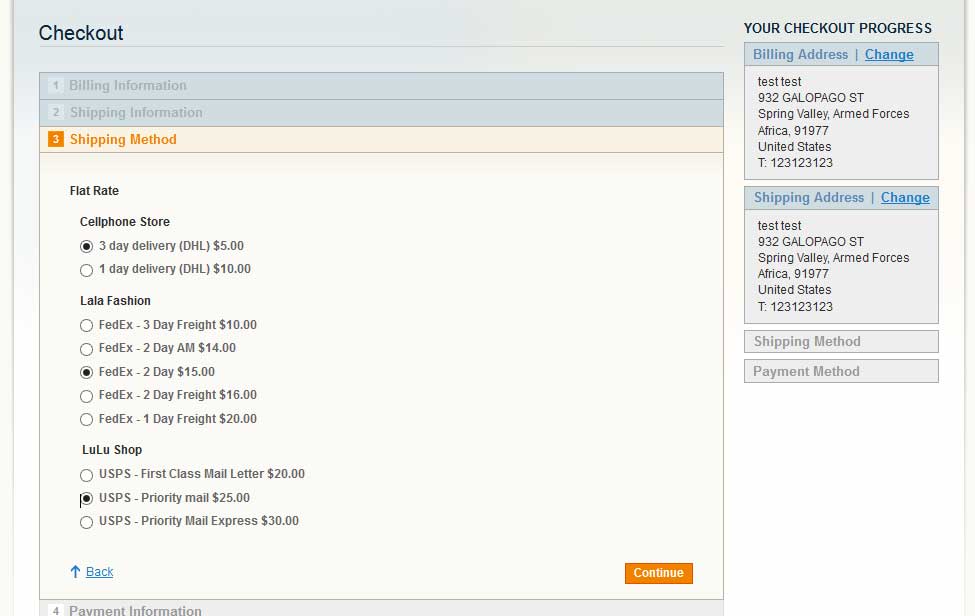 Message System
With the Message plug-in customers can send messages to the vendor. Customer and vendor will get notification email when message arrives.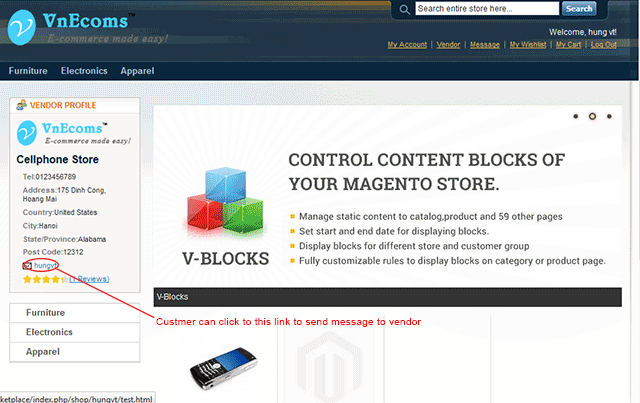 Vendor will be notified about unread messages when they login to the vendor dashboard.

Vendor can manage all of their messages and send reply to customers.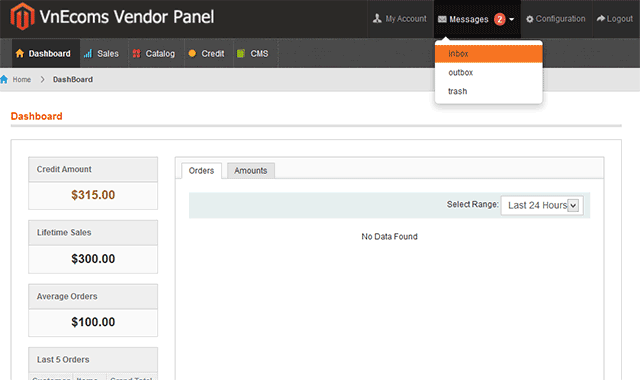 Customers can manage all of their messages and send instant replies to vendors.

Vendor Home Page
With the Vendor Home Page plug-in; vendors will have their own page to display there products. This page will have the same design as the marketplace website and only display all vendor's products and the vendor profile.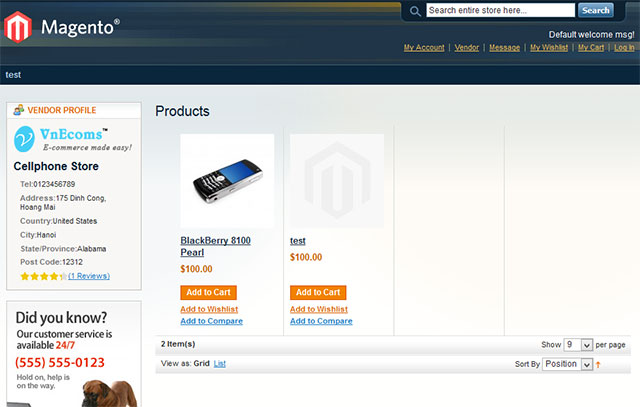 Vendor CMS
The Vendor CMS plug-in is a powerful plug-in for Magento multiple vendors extension. It allows vendors to have full access to their page. Vendors will able to add static pages (Customer Service, Privacy Policy, FAQs,...), static content to their page.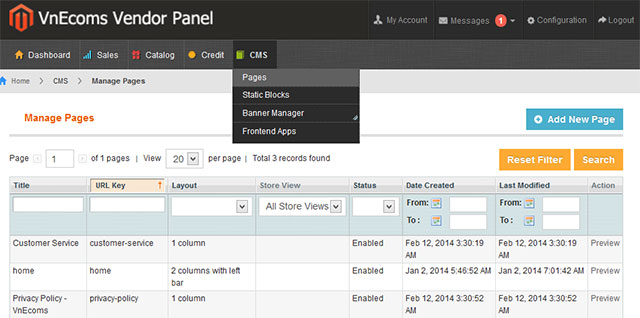 Vendors can also set their homepage as a static page.
With Frontend Apps of Vendor CMS plug-in; vendors can add static content to any position of their pages.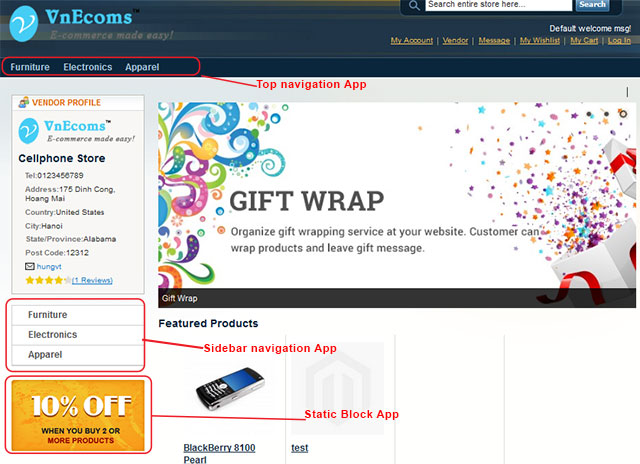 Vendor Categories
The Vendor Category plug-in allows vendor to manage and display products by categories. This will help the customer find products much easier.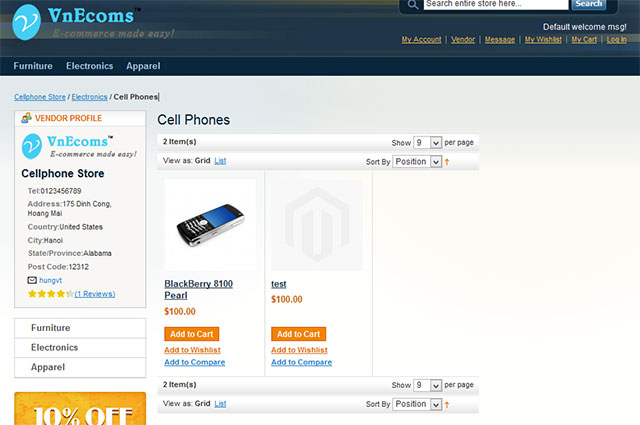 Vendor can manage multiple category levels.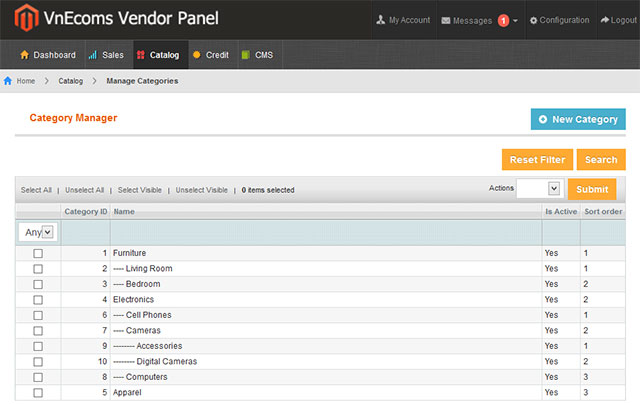 Vendor Review / Rating
Vendor Review plug-in allows customer to leave a review for vendors after processing a purchase from that vendor. This review/rating will be seen by other customers. The vendor rating is shown on the vendors profile so customers can base their buying decisions on real reviews and ratings.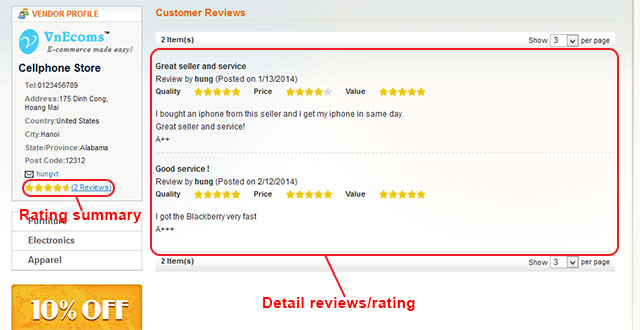 Vendor can view all reviews which customers left for them and ONLY the Admin can edit/delete vendor reviews.

Vendor Banner Manager
With the Banner Manager plug-in vendors are allowed to manage image banners for their website. Vendors will be able to add images and adjust them for any position of their page. The Banner Manager plug-in supports an image slider as well.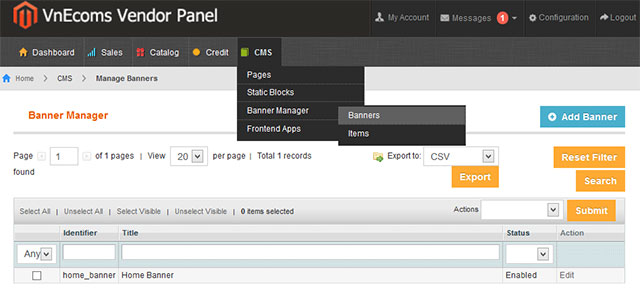 The Banner Manager plug-in supports many kinds of jquery sliders..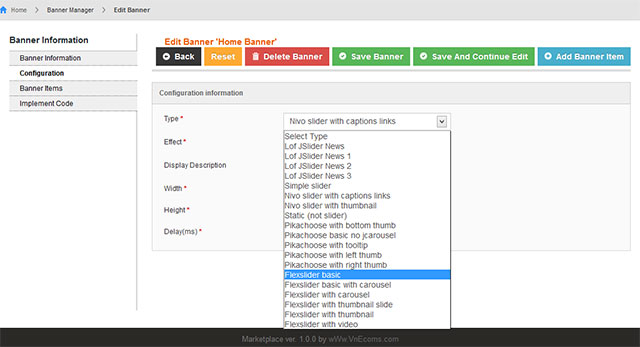 Vendors can add multiple banners to any of their pages.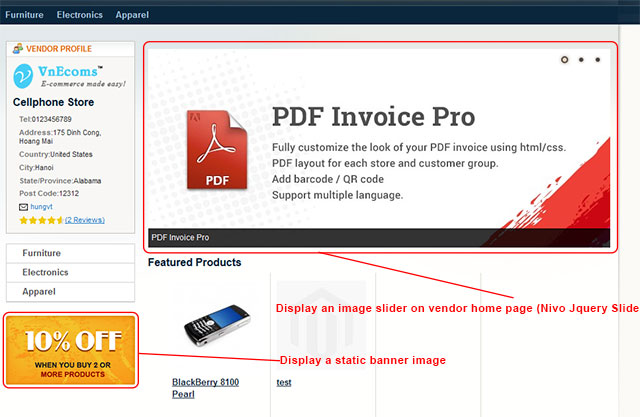 Vendor Featured Products
The Featured Products plug-in allows vendors to set products as `featured` and displays it on the homepage, category page and any of other static page. Vendors will just need edit the product and set the featured attribute to Yes.
There are two ways for vendors to add a featured products list to their page: Add as a cms app and add as a widget code.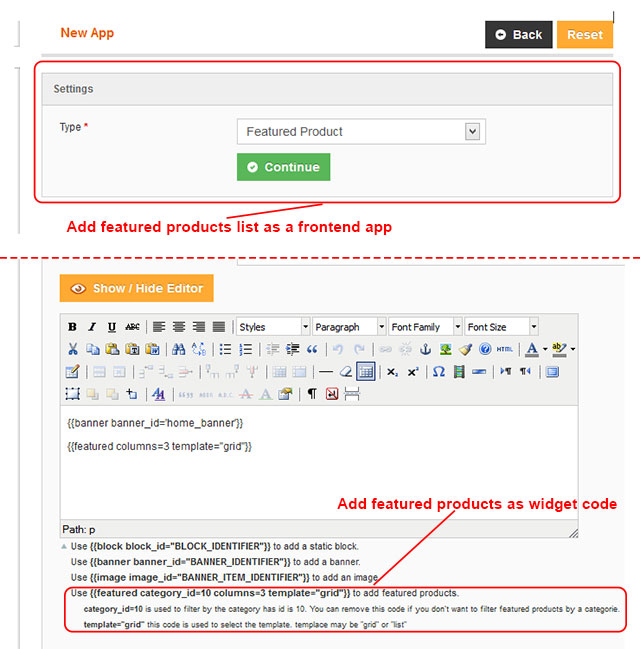 Search By Vendor
Vendor Catalog Search is a plug-in of Magento multiple vendors extension which allows customers to search for products inside a vendors store. The search will only return products from current sellers.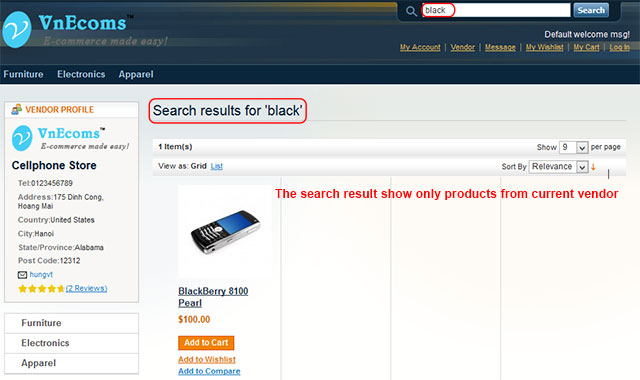 Select And Sell
Select And Sell is a plug-in of Magento multiple vendors extension that allows vendors to create products very quickly by copying and modifying data from existing products.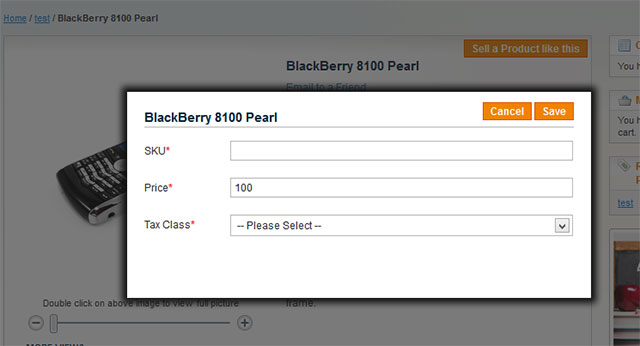 Price Comparison
The marketplace website may have some vendors which are selling the same products. Each vendor may have their own product pricing. The Price Comparison plug-in allows customers to compare prices from different vendors.
Vendor FAQ
The Vendor FAQ plug-in allows vendors to create a separate list of question and answers, which is specific to a particular category. This module enables vendors to solve customer queries quickly by providing relevant FAQs. Customer can send questions from the FAQ page. Vendors can add/edit or update FAQs through their vendor cpanel.
Vendor Store Locator
The Vendor Store Locator plug-in is an amazing tool for vendors who have physical locations as retailers. The module gives the vendor help in adding store addresses to the website and navigating visitors to the required location. With the Vendor Store Locator extension, vendors can easily display all of their stores on the map.
Vendors can create as many locations as they need - they will be displayed in a pleasant vertical presentation on a separate page. Just specify the address of your store and see how it will be automatically detected on the map. The store locations URL will be added to the vendor profile so customers can easily find it. Customers get to know all existed locations on the map and view the detailed information about them by clicking the store icon.
Vendor News
Vendor News plug-in allows vendor to display fully-fledged news on his page. The module has a number of flexible tuning options including the possibility to create categories, add comments to each news item, add pictures to news and much more. Also This extension can be used as a blog on vendor page!
The Vendor News plug-in will help vendors make their store more interactive and will keep your visitors abreast of the latest business updates, developments and achievements. The opportunity to comment on the news, as well as integration with social networks like Google+, Facebook and Twitter.
Vendor Vacation
The Vendor Vacation plugin allows vendors to show a notice message on their store/product pages if they are on vacation.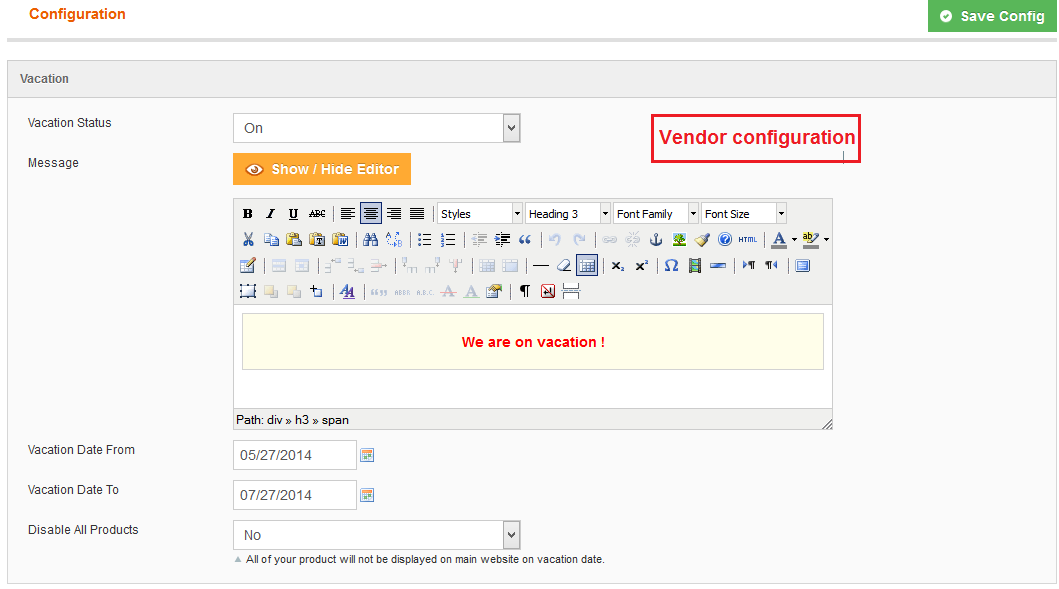 Vendor Custom Order Number
This extension enables vendors to have custom prefixes, starting number and increment rate to titles of orders, invoices, shipments and credit memos. With this plug-in vendors will be easier to work with their documents.