1-year support

FREE Upgrade
How It Works
Vendor Multiple Flatrate Shipping plugin allows vendor to setup multiple flatrate shipping. Vendor can set the title and price for each rate. With this plugin customer will be able to select shipping method by each vendor.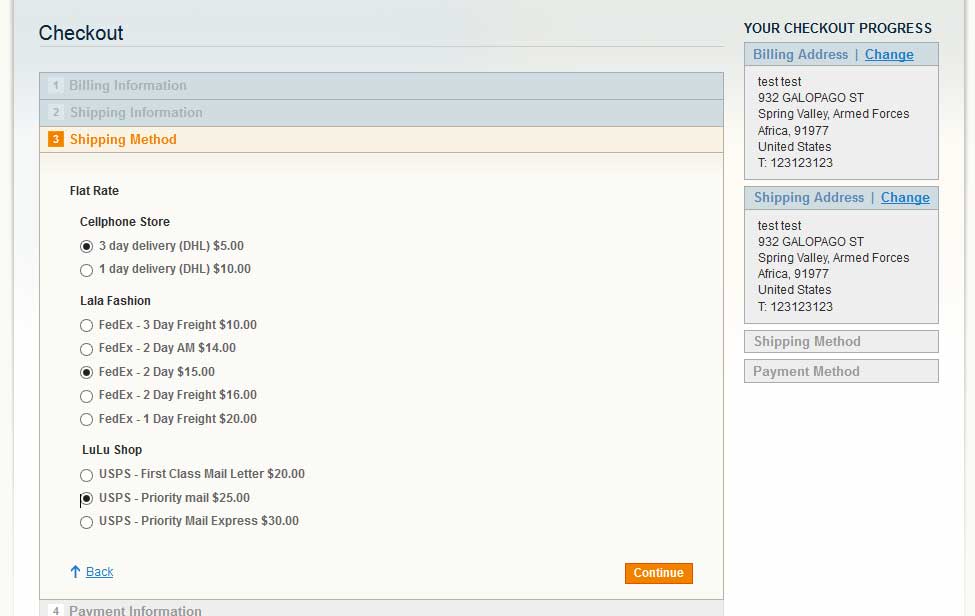 FEATURES
Ability to add multiple flatrate with different price.
Ability to set title for each flatrate.
Ability to set minimum order amount for Free Shipping for each rate.
Ability to set rate per order or per item.
Ability to set sort order for rates.
Customer can select shipping method for each vendor.
How To Use
I. Managing Vendor Multi Flat-rate Shipping from Admin panel



After installing Vendor Multi Flat-rate Shipping, you will need to do some configuration from Admin panel for keeping this plugin to work exactly what you want. To do that please following some steps below:




Step 1::From Admin Panel, click to Marketplace icon on the left sidebar then go Configuration > Shipping Methods > Vendor Flat rate





Step 2:Checking from the top to the end all the fields listed in the tabs:




Enable vendors Shipping Methods

Chose "Yes" to enable shipping feature in all vendor panel in your marketplace website. From then vendor can start to choose the shipping methods to use. In this User Manuel we only learn about Vendor Flat rate shipping method.




Vendor Flat rate




a) Enable

Chose "Yes" to allow all the vendor to use Vendor Flat rate shipping method.

b) Method Name

You should set it as system value, the name of shipping methods will be named by vendor.

c) Displayed Error Message

As its name.

d) Ship to applicable Countries

As its name.

e)Ship to specific Countries

As its name.

f) Short Order

Leave it blank.




Step 3:After finishing configuration, click to Save Config button on the top right to maintain all the setting.




Now the Vendor Multi Flat-rate shipping plug-in is ready for your vendors, they can start to make themselves shipping fees for their product.



II. Managing Vendor Multi Flat-rate Shipping from Vendor panel



Now we will go to Vendor panel and learn how the vendors can make and manage the shipping fee:

From Vendor Panel, click to Configuration in the left side-bar, find the field Sales > Shipping Methods.



III. Vendor Multi Flat-rate Shipping in the Website Frontend



After finishing configuration in Vendor Panel, below is how the vendor Multi Flat-rate Shipping looks in the website frontend: